This year we again using a conference app. All the conference information is on your phone, iPad or website. It saves on paper.
If this is your first time using a Guidebook app, you've come to the right place.
SHORTCUT – go to your phone or iPad and search for the free GUIDEBOOK app Once it is downloaded use the code  rabws2by. That's it.
While we try to design our apps to be as intuitive as possible, we know that technology can be daunting and confusing at times. This tutorial will help you navigate Guidebook like a pro and make the most of your event!
Contents:
How to Download the App 
The steps below will give you access to the Guidebook app. If your event has its own app, follow the instructions provided by the event organizers to access that app. They may have provided you with step-by-step instructions and/or a special web link. If your event organizer shared a passphrase with you, this means your guide is private. You will need to use this passphrase to find and access your guide content!
To download the Guidebook app, please follow ANY of the steps below:
Scan this QR Code: 
Navigate to http://guidebook.com/getit in a web browser.
Open up the Apple, Google, Amazon, or Blackberry app store on your device. Then search for "Guidebook".
Note: Windows device / laptop / desktop users, please navigate to http://guidebook.com/browse to access guides via web browser.
Please click here for details on supported devices.
I downloaded the app! Now what?
If the app opens directly to your event information, you can skip ahead to the next section. There you'll discover how to navigate the app and access various tools & resources for the event.
Note: If your event organizer provided you with a passphrase, you will need to enter this passphrase when you first open the app. Then you will be able to access the private content inside the app.
If the app opens up to a landing page, you're ready to download a guide!
Choose from the list of public guides, or tap in the search bar to find a public guide by name.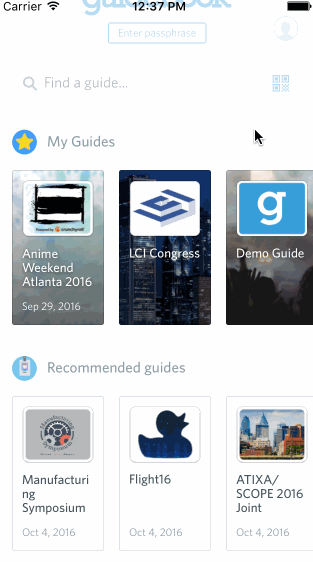 Note: If your event organizer shared a passphrase with you, this means your guide is private. You will need to use this passphrase to find and access your guide content!
To access a private guide, please tap on "enter passphrase". Then type in the passphrase provided by the event organizer.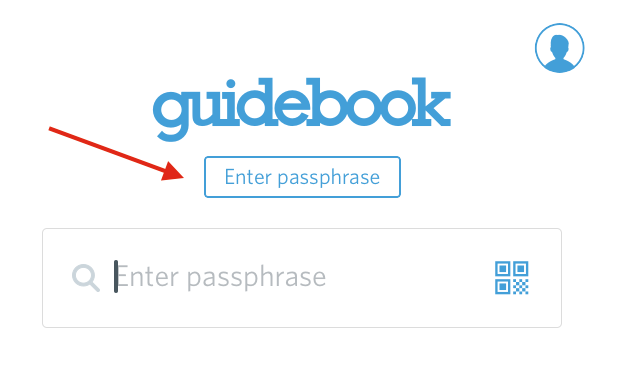 When you find the guide you need, tap "Download" and then "Open".
Permissions
You may be prompted to allow push notifications and location services. We strongly recommend allowing push notifications so you don't miss any important announcements from your event organizers!
We also recommend allowing location services so you can use the Maps features inside the app, and we can also provide location-specific recommendations when you're searching for your event.
Still can't find what you're looking for? Have any additional questions? Reach out to your event organizer or contact Guidebook Support at support@guidebook.com! Please include the name of the guide and the event dates, so we can best assist you!

In-Guide Navigation and Features 
1. Menus
Login
Log in to the guide to access social networking features, including Interact, Attendee Check-in, and Messaging. If you have a Preset Schedule, you will need to log in order to see those sessions in the "My Schedule" menu item.
On an iOS device (iPhone/iPad), tap the

 icon in the top-right corner of the app screen.
On an Android device, open the navigation menu by tapping the

 icon in the top-left corner. Then, tap on "Log in". 
Follow the on-screen instructions to sign up or log in.
Navigation
Tap on the

 icon in the top-left corner of the screen to access the navigation menu.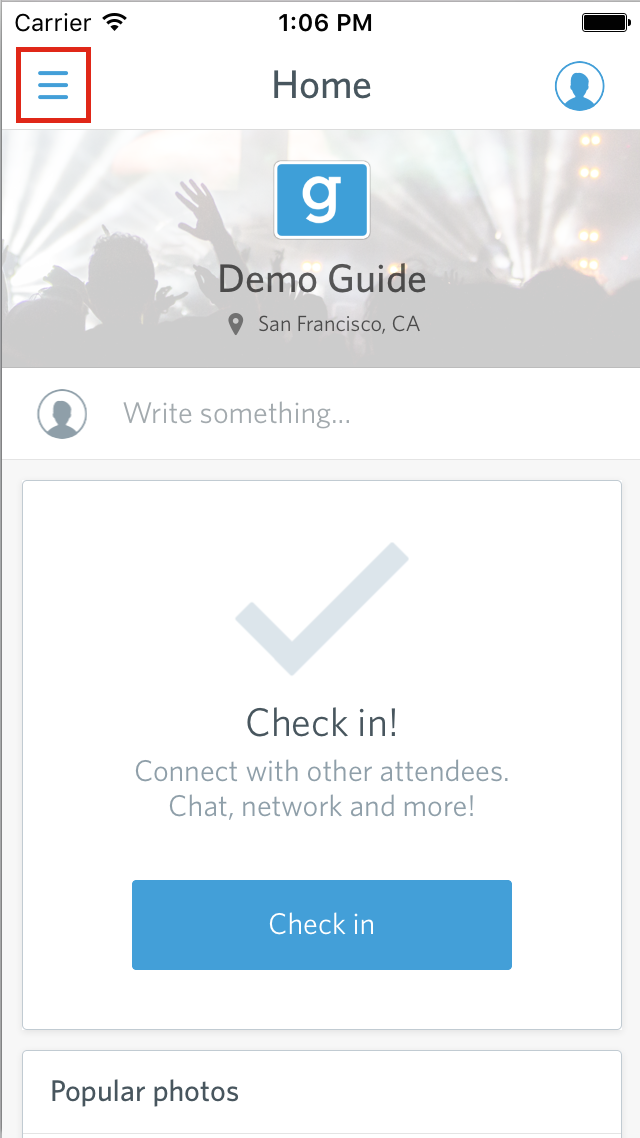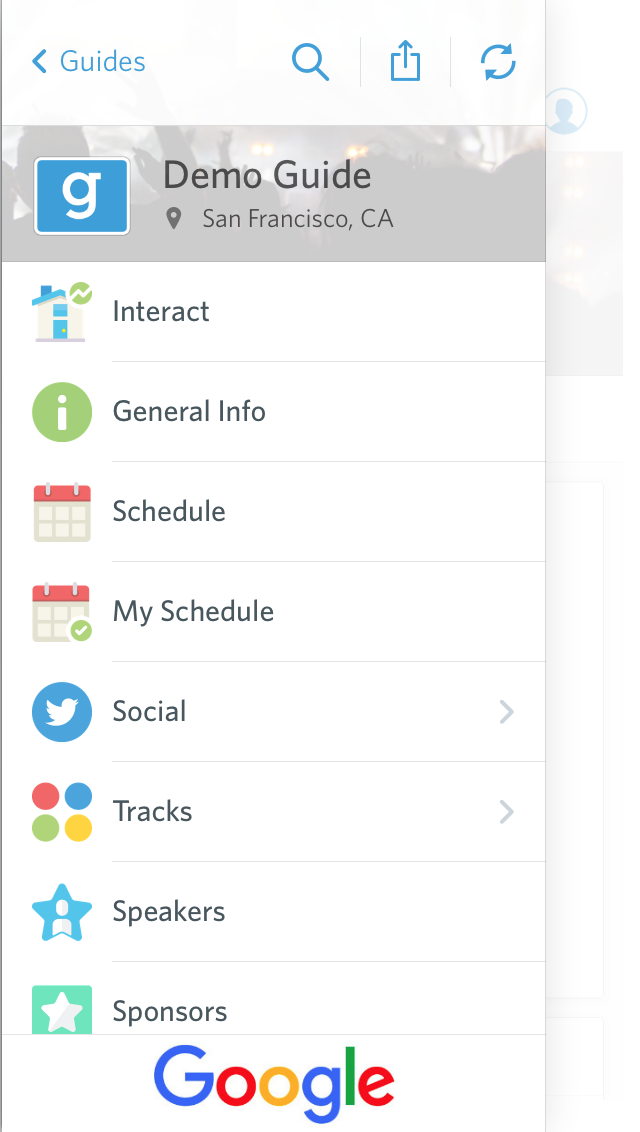 From this menu, you can access the various components of your guide!
2. Key Features
Note: Your event organizer may have renamed the menu items or used different icons for your event guide. For example, instead of "Schedule" with a red icon, you may see "Agenda" with a blue icon. We hope to provide a broad-base resource explaining the key features that most guides will include!
Networking
Guidebook provides a few different tools to promote engagement and help you get the most out of your event experience!

If you choose to log in, you can check in as an Attendee and see who else is there! You can add a picture and modify your profile, if you would like to share information with other attendees. For details on the Attendees module, click here!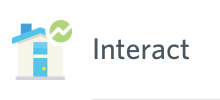 The Interact feed is a great place to see what's going on at your event! Read announcements, post pictures, find popular sessions, and have discussions with fellow attendees all in one place. For more information about the Interact module, click here!


You can connect with colleagues without sharing phone numbers or email addresses with in-app Messaging. For details on the Messaging module, please click here.
3. Important Event Information

You can find everything you need to know about sessions in the Schedule! Tap on the dates at the top of the screen to navigate through the schedule. Tap on a session name to get more details.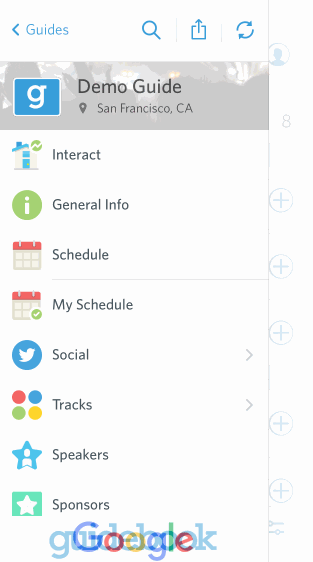 You may see colorful dots on some sessions. These indicate "schedule tracks", which are tags for sessions according to topic, intended audience, etc.
Below the session description text, you may see links to other items in the guide, surveys, PDFs, and/or website as additional resources.


Create your own custom schedule by tapping "Add to my schedule" or the plus sign

 symbol from sessions in the Schedule.
If you have a Preset Schedule, be sure to log in to see those sessions! You can still add additional sessions to the My Schedule menu item if you'd like.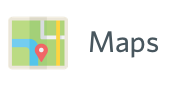 Now that you know what's happening and when, we need to know where to go! Your event organizer may provide campus maps showing multiple buildings and/or detailed floor plans with room locations inside the event space. In some instances, you can tap on a location to see what's happening there.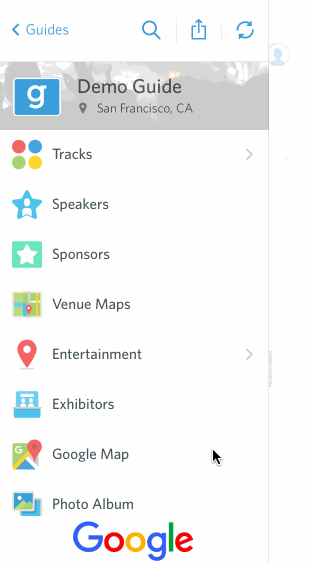 Lists
Outside of the Schedule, much of your event information will be available inside various lists. Some common lists include:
Sponsors
Transportation
Contacts
Resources
Explore other information, tools, and resources your event organizer has provided for you in the navigation menu!
---
If you have any questions, please contact your event organizer or reach out to us at Support@guidebook.com. Please provide the name of the guide and the event dates, so we may best assist you!